In class yesterday, we were tasked with making snowflakes out of sheets of paper to create the sort of rosette that we were learning about. There is another way to get to that sort of shape without the use for scissors, an art form that I and I sure everyone else is familiar with, origami.
Since the world invented paper, so has folding paper been a part of civilization. Until relatively recently in history has paper become cheap enough that more than nobles and priests were able to experience it the art. Today its a past-time shared by millions of people in all countries, and there are hundreds of different folding patterns that you can find to start you off. But I wanted to focus this post on origami that follows rosette patterns.
In fact, this is an origami pattern known as the rosette, one of the simplest ones to make. This was made from a single piece of paper, with thirty-six folds around the center. If that seems like it would be too difficult, you might want to try out the next one: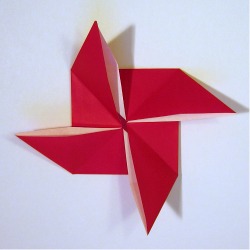 This pinwheel is far simpler on the rosette pattern with only four folds, but I would rate both this and the previous project to be similar in difficulty – rather, they aren't that difficult to do at all. If any one is interested in trying out this project or others, I'd suggest going to www.origami-instructions.com which has these patterns and more with video tutorials.
Last but no least, let's look at a 3-D rosette:
Don't let the stripes colors fool you, because this 'dragon's egg' origami was actually folded out of a single piece of striped colored paper. You can see the whole process below in the video link. Check it out!